---
BUY 2 OR MORE FOR 20% OFF

                            
SPACE SAVING DESIGN
The bracket is equipped with 2 storage cups with large capacity for the purpose of saving space and can hold two drinks at the same time. The cup holder has a reasonable design and is suitable for various car seats. It does not take up space.

ADJUSTABLE BASE
The base of the cup holder can be moved from left to right. The position can be shifted and adjusted according to the most comfortable place for you to reach your drink, and save space in the car.
ROTATING DESIGN INSTANTLY TRANSFORMS INTO TWO
360° rotatable cup body. Multiple drinks and small items can be placed without taking up space.
SUITABLE FOR MOST CUPS
With an elastic open-close cup mouth, the cup holder is suitable for most kinds of cups whether they're thick, thin, or long. As the Drink Holder's height is 6.7cm, it is recommended to not store cups or water bottles that are too tall.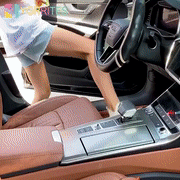 SMART DESIGN

Increase the possibility of using cup holders to meet more storage needs.
SHOCKPROOF CUSHION PADS

If there is a gap between the mounting position and the base of the holder, the cushioning foam pad should be used to fill it, which can not only reduce vibration but also stabilize the holder. This helps support the bottom of the cup.
Free Shipping Worldwide for a Limited Time
Our suppliers typically ship out orders in 2 days or less. It will take about 2 to 5 business days to get to you once shipped. So you're looking at a week or less from the moment you order to the moment it reaches your door!
We ship worldwide! Orders to the USA will take from 3 to 7 days. Orders outside the USA will take 7 to 14.
You can return your order within 30 days after receiving it. You can contact us here and you will be sent a return label. Simply attach the return label to the box you received your order in, and you will receive a full refund once we receive it.
We are an American company that strives to showcase the hot, new, and unique products at affordable prices. We are based out of Ocean Isle Beach, North Carolina. We operate under Tiger Management LLC, an entity registered in North Carolina. We want to help you, the customer, have the items you need to make your life a little easier.
Tigerbrass has a lot of unique products I've never thought of! Every purchase I've made from them has been a great experience. They really strive to provide the best service possible for customers.
Always happy to support small American businesses, and Tigerbrass is a damn good one.
Tigerbrass has been so helpful when I was finding a gift! Their customer service alone is enough for me to highly recommend them. Not to mention their awesome selection of products!!